Series 1 will be the first series of Wibbly Wobbly Timey Wimey.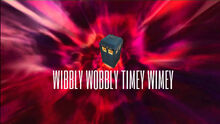 Production
Soon after the confirmation of Wibbly Wobbly, The Tenth Doctor and Rose Tyler were confirmed as the primary Doctor and companion of Wibbly Wobbly's first series.
Plot Revelations
The Tenth Doctor and Rose Tyler will be the centric characters.
Ood will appear.
The timeline of Wibbly Wobbly may be significantly different than that of Doctor Who.
River Song and Martha Jones will team up with the Doctor and Rose in the sixth TV story to defeat a new enemy who has been seen before, but not on Doctor Who.
Cast
Recurring
Guest
Aliens and Enemies
Trivia
Rumours
Episodes
Gallery
See Series 1/Gallery.
Trivia
Chronology